The SPYPOINT app
The free app for Android & iOS offers a wide range of options and settings. Manage and configure your cameras comfortably on the go and always keep an eye on everything in your area. The app is available in 13 languages and the SPYPOINT cameras work all over Europe.
Change settings of all cameras
Notifications immediately on the smartphone
Buy and manage data plans
Configure transmission settings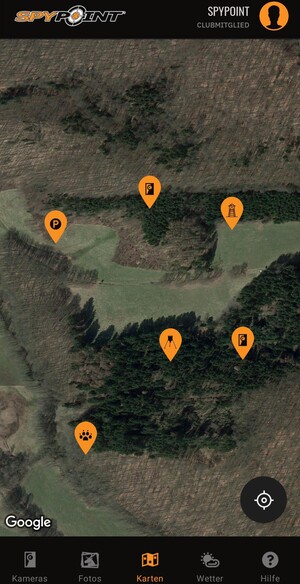 Map function
With the map function you always have your entire territory with you. With a total of 26 different markers, you can enter everything that is in your area.
Enter your SPYPOINT cameras and switch directly from the map to the settings.

You can also use other trail cameras and mark them on your map. In addition, you can also enter where your feeding places are or where your hide is located.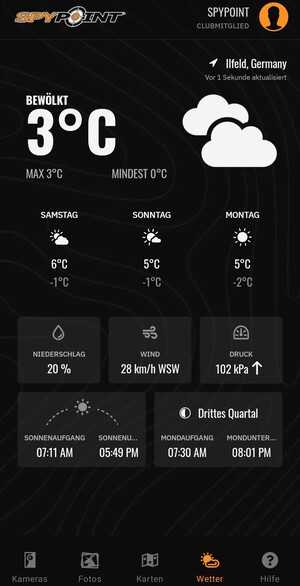 Weather indication
With the weather function, you can check the weather without having to switch apps. Check the weather for the next three days and use the information to plan your next trip to the area.
You can also find useful information about sunrise and sunset, wind speed and the probability of precipitation.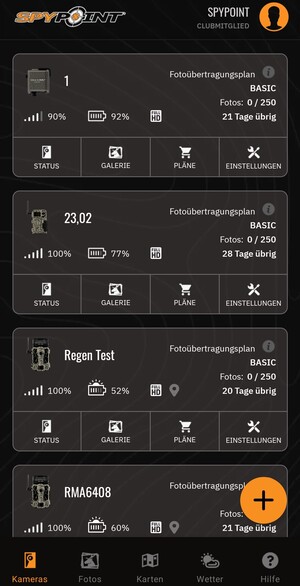 Manage your cameras
All your cameras clearly presented in one place. See the congestion of your cameras and always keep an eye on your free images. You want to buy a data plan? No problem, in the app it's easy and fast via credit card. As an Insiders Club member you get 20% discount on every data plan!
With the
CELL-LINK
you can also manage your classic trail camera (no matter from which manufacturer) in the SPYPOINT app and view the pictures!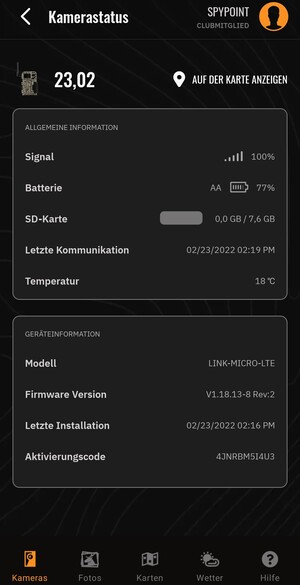 Your camera always with you
Look at your cameras in detail at any time.
Signal strength
Battery capacity
Remaining space on SD card
Last communication
Temperature
Firmware version
Last installation
Activation code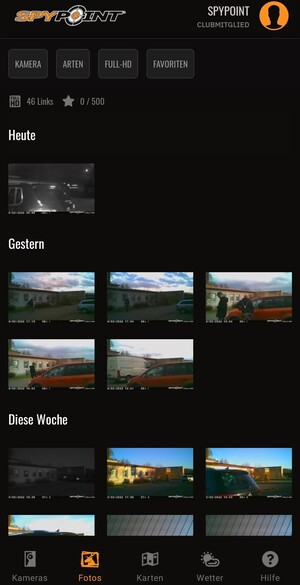 All images in one place
View images from all cameras in one place. You only want to see pictures from one camera? No problem with the camera filter. Use the advanced technology of the Buck Tracker to sort and filter your images by game type. As an Insiders Club member, you can choose from up to seven game types. Share your images from the app via WhatsApp or email. If you give your hunting colleagues your access data, they can also access the pictures. Perfect for hunting groups!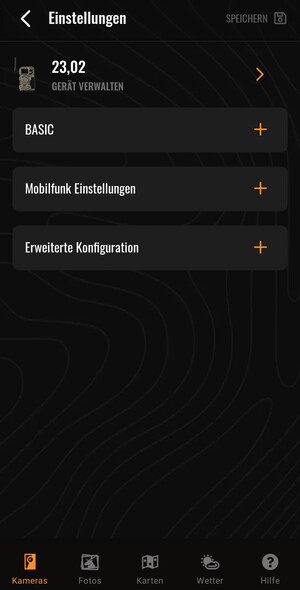 Configure settings on the go
With the SPYPOINT app, you can also adjust your cameras to your needs while on the go. Change the delay time if the camera takes too many or too few pictures or set fixed working times for each day via the schedule. Do you need every picture immediately or only once a day? Set it in the app!


Buy the right camera now or simply upgrade!
Sign up for the newsletter now!