The CELL-LINK is the first and only adapter for game cameras on the market. With the small cube you can turn your game cameras into cameras with image transmission in no time. The CELL-LINK works with almost any model (standard SD card slot provided), even with cameras from other suppliers! Plug our SD card cable into your camera's card slot, run the cable down to the bottom of the camera housing, and close the camera door on the cable. The flexible, rubberized cable is designed to be locked inside the camera door and maintain your camera's weatherproofing. Then connect the other end of the cable to the CELL-LINK and install it above the camera. Thanks to the CELL-LINK, you can bring your cameras to life and manage them through the SPYPOINT app To learn more about the SPYPOINT app and data plans for the LINK cameras, visit: spypoint.info. We explicitly point out that the SPYPOINT CELL-LINK has a SIM lock. Therefore, the camera can only be used with the included SIM card. Operation with SIM cards from other providers is not possible.
Technical data
| | |
| --- | --- |
| 12V connector: | Yes |
| Memory card: | MicroSD card up to 32GB |
| Optional power supply: | 1x LIT-10 battery pack |
| Power supply: | 8x R6(AA) batteries |
| Transmission standard: | 4G/LTE |
---
Hauptproblem ist oft, dass manche Wildkameras irgendwie
Hauptproblem ist oft, dass manche Wildkameras irgendwie nicht mit dem Cell Link zusammen arbeiten wollen. Auch rutscht die SD Karte des Kabels öfters aus dem SD Karten Schlitz der Kamera und rastet nicht richtig ein. Was richtig nervig ist allerdings dass die Gerät mitunter den Betrieb einstellen, ohne dass man es direkt mitbekommt und erst wieder nach einem Update der Software laufen. In der App wie auch Desktop Software wäre es hilfreich wenn man auf einen Blick sehen könnte welche Kamera nicht synchronisiert hat bzw wann die letzte Synchronisierung war. Bisher muss man erst sich bei jeder Kamera durchklicken.
Gute Idee, nur LTE sollte halt auch möglich sein
good evening Benjamin, I have already made a complaint for the product in question (ordered new and not regenerated as you call b-stock), as I was supplied with a used product with already images inside and without a fastening belt and with evident signs of tamper seals removed and reapplied but no response, WHICH DIDN'T GIVE ME PLEASURE. I WOULD LIKE EXPLANATIONS. THANK YOU
great Price quality,... I would buy more
We have about 10 units now and we are very positive about the quality, Easy to use and never had problems whit something.
Zur Nutzung der Kameras gute Ergänzung zum Umrüsten
Gute Verarbeitung, Funktioniert mit verschiedenen Kameras, einfach anzuschließen, nur große Karten bei den Kameras- nicht für Kameras mit Micro Karte geeignet, keine Zeiteinstellung möglich,
Bin zufrieden, kann ich Empfehlen!
Preis-Leistung ist gut, leider war keine Gebrauchsanweisung in Deutsch dabei.
Super Produkt welches einfach nur Freude bereitet!
TOP-Funkadapter!!! Einfache Installation, super Empfang im Wald, Einzelteile nachkaufbar, sekundenschnelle Übertragung auf die Handy-App, sehr geringer Stromverbrauch - Batterien halten ewig, einhundert Fotos Monat für Monat kostenlos ... weitere Übertragungspläne frei wählbar, kann ich nur weiterempfehlen - alle Daumen hoch;-)
Sehr gute Ergänzung im Revier! Sie arbeiten
Sehr gute Ergänzung im Revier! Sie arbeiten absolut zuverlässig. Das Preis-/Leistungsverhältnis ist angemessen!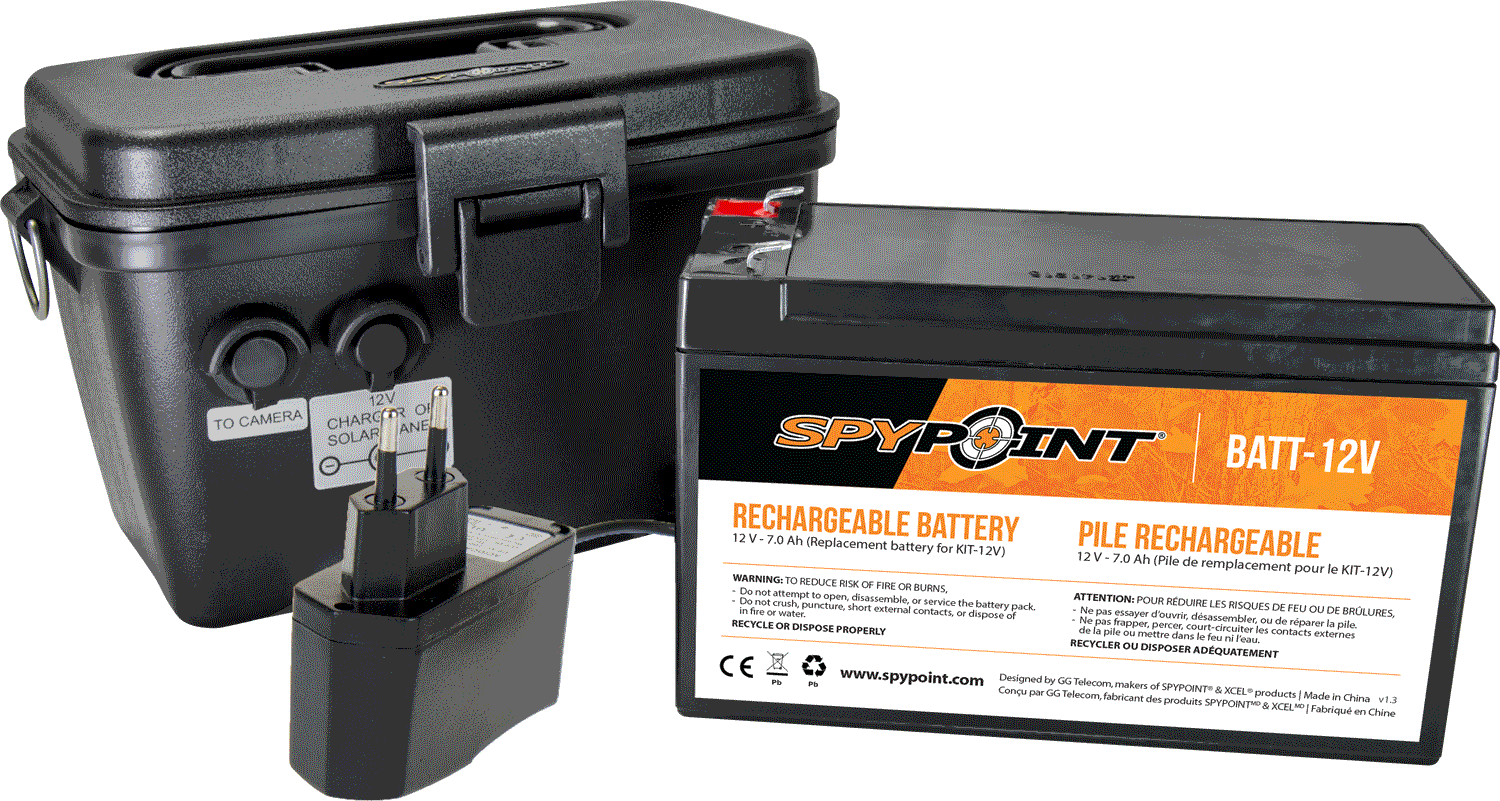 12V battery kit
With this set you have everything you need to power your camera for a long time. Included is a 12V battery with a weatherproof ABS plastic housing, a charging cable, a connection cable from camera to battery and a strap for transport. Rechargeable 12V 7.0Ah battery with a waterproof ABS plastic housing, charger, 3.65 meter connection cable and carrying strap. Compatible with all SPYPOINT cameras with 12V connection.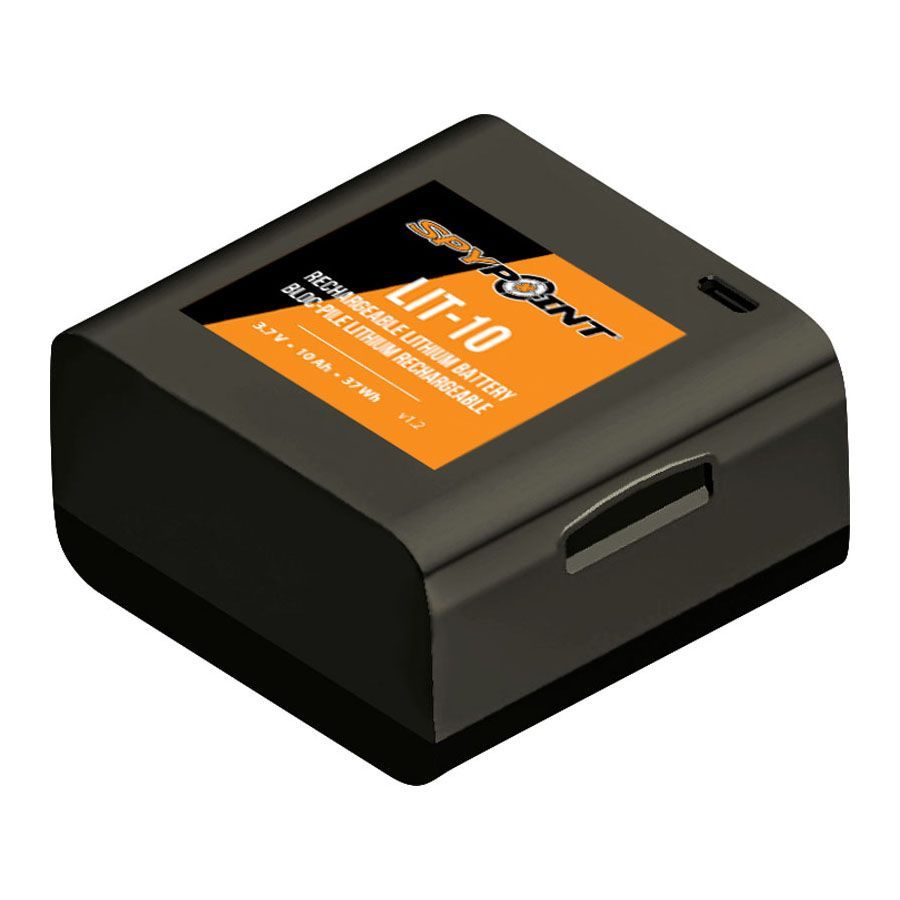 LIT-10 Lithium battery
With the LIT-10 battery, SPYPOINT continues to expand its range of innovations and now also provides the MICRO family with a rechargeable power source. The compact battery fits perfectly into the battery compartment of your MICRO camera and supplies it with power for a long time thanks to its 10200 mAh capacity.